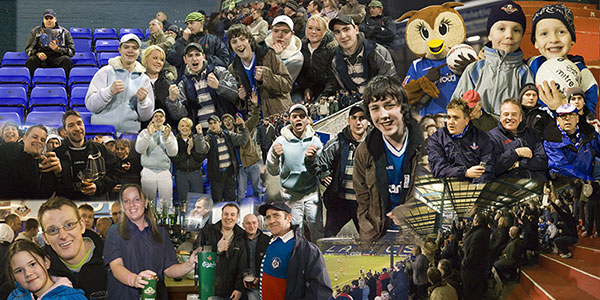 Fans montage by Christine Widdall and Mike Lawrence with images from all 5 contributing members
A Collaborative Exhibition, featuring Oldham PS at Gallery Oldham, celebrating 100 years of Oldham Athletic FC at Boundary Park, 27th May to 9th September 2006
Oldham Photographic Society were asked to collaborate in this Exhibition by providing contemporary views of Boundary Park, including some that spectators rarely see. Five press passes were provided, and the lucky five OPS members were allowed to photograph behind the scenes and around the ground in the afternoon and evening of the match with Nottingham Forest, the Littlewoods Legends Reunion, on 15th February 2006. We were given a unique opportunity to photograph the personalities, from ground staff to fans on this very special occasion, the centenary of the Oldham Athletic ground.
The day itself proved to be quite a challenge for us, the afternoon session being a whirlwind guided tour inside the building, taking in the changing rooms, physio rooms and other areas not open to the public. We were given permission to photograph the "hallowed turf" (so long as we didn't stand on it!) but by that time the sun was going down, so it was a quick dash round to capture what we could before dark.
Returning to the ground around 6:30 pm, we were able to capture the first activity of match-night; ticket sellers, practice play and the spectators arriving. The group separated during the match, some remaining on the touchline, others taking to the stands and after the match we captured the atmosphere in the Royle Bar.
The twelve prints exhibited were chosen by the Gallery. We have used a larger selection of our favourite pictures in an audio-visual sequence to tell the story of the day. The audio-visual sequence and the large montages were produced by Mike Lawrence and Christine Widdall using photographs from all five.
The photographers were
Jenny Binks
Brian Dennett
Mike Lawrence DPAGB
Christine Widdall DPAGB BPE2
John Widdall CPAGB