Book: A Victorian Society
Oldham Photographic Society, the First 150 Years
by Christine Widdall
326 pages and more than 300 pictures…
Available from amazon.co.uk – £15 including postage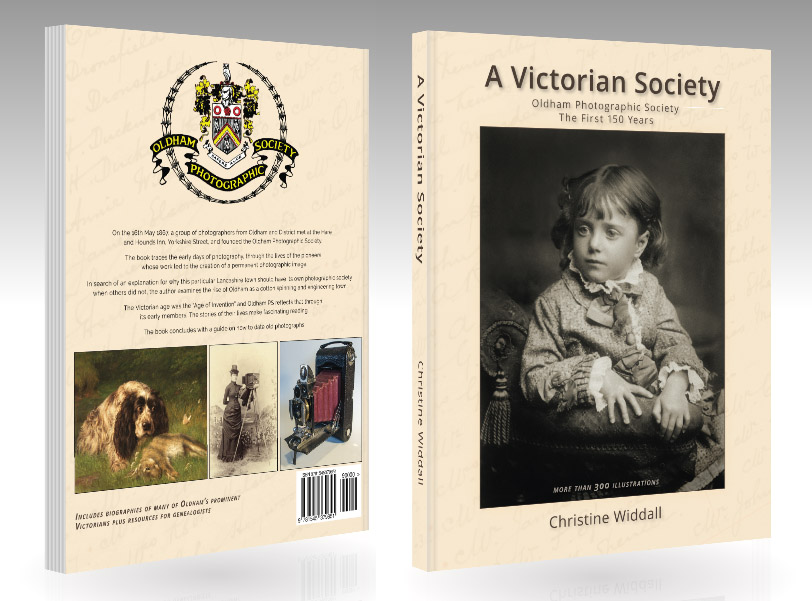 Description
"A Victorian Society" is a book about early photography and photographers, told against the backdrop of life in what was to become the most productive cotton spinning town in the world.
In 1867, when photography was still in its infancy, a group of photographers from Oldham and District met at the Hare and Hounds Inn, Yorkshire Street, and founded the Oldham Photographic Society and some of these men would provide the early photographic studios in the town. The photographic portrait had been accessible only to the wealthy but now it was beginning to be affordable by all but the poorest in society.
One evening each week, the early photographers of Oldham met to share knowledge and to collect photographs in their album, which has mostly lain unseen in the society's archives for over 100 years. "A Victorian Society" has more than 300 black and white photographs and illustrations, many of which are published here for the first time.
The book first traces the early days of photography through the lives of the pioneers, in France and Britain, whose work led to the creation of the permanent photographic image, paving the way for all professional and amateur photography.
After the Lancashire cotton famine, the late 1860s marked the beginning of the most exciting period of Oldham's history. The author examines the rise of the town to become one of the most important cotton spinning and textile engineering towns in the world and follows its progress through phenomenal growth to eventual decline.
The Victorian age was the "Age of Invention" and the Oldham Photographic Society reflects that through its early members, many of whom rose to prominence in the world of photography, commerce and manufacturing, some of their businesses achieving national and international importance. Using genealogy sources and historic publications, the author researched the lives of many of the society's Victorian members and brings them together in a social group not studied before. Their stories give a real insight into their origins, successes, rise to fortune, failures and personal tragedies.
The book concludes with a guide on how to date old photographs.
Sample pages