This post was originally written in 2008 but has been updated in 2018 as a result of further information becoming available.
During the autumn of 2007, out of the blue, a Mrs Marina Lord had contacted one of our committee members (Trevor C). She had found an old portrait photograph in a drawer of a house that she had bought in Failsworth. The card was a Victorian carte de visite from the late 19th century. On the reverse of the card was the inscription "S Beverley, Church Street, Blackpool" (the photographer) along with two circular inscriptions proclaiming "Oldham Photographic Society, First Prize 1870" and "Oldham Photographic Society, First Prize 1871". The obverse shows a profile view of a rather austere looking woman wearing a dark dress with bustle and "apron".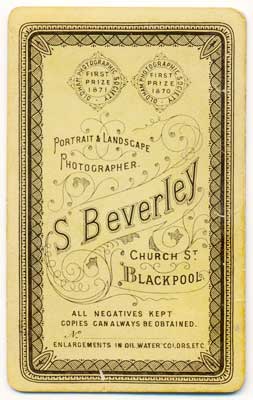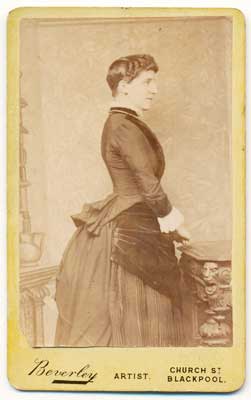 No-one on the committee could shed any light on this at the time. However….I happened to meet a member of Stafford Photographic Society (Gillian Jones) whilst judging the Midland Club Championships in Leicester. The following week I was actually booked to give a talk at Stafford PS and Gillian arrived with a gift for me. Gillian has published a number of Directories of Photographers and it turned out that her gift was a copy of "Lancashire Professional Photographers 1840-1940." The ISBN for this book is 0 9523011 5 6 and it is currently available from Amazon. It was a very kind gesture and I asked her to sign the book, which she was happy to do.
As soon as I got home I was keen to look up Mr Beverley of Blackpool and sure enough, there he was….with an address in Church Street Blackpool from 1879-1882 and 1885-1890 and again, with his son, from 1892-1895. But there was an earlier entry for Mr Beverley, at his premises in Yorkshire Street Oldham from 1869-1876, the time during which he won the first prize in our Oldham PS competition shortly after the formation of the Society in 1867. In the book there is also a reproduction of one of Beverley's cards of slightly different design but also showing the OPS first prize stamps.
Oldham Photographic Society founded 1867
Oldham PS was founded by professional photographers and John (W) remembered that he had a photograph of the first page of the original minute book of the Society. Sure enough, there we found Mr Samuel Beverley, a founding member of Oldham PS and its first Treasurer. He also became President in the early 1870s.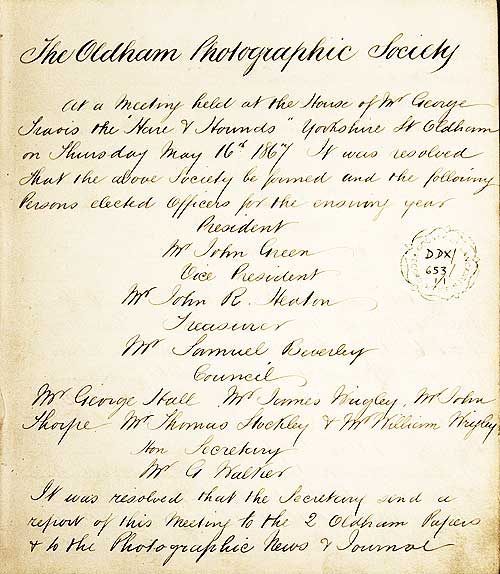 Marina Lord was very happy to donate her photograph to the Society and it now forms an important part of our history. The mystery is solved, well…partly.
Many Lancashire photographers of the 19th Century, took up premises in seaside resorts for the summer season, returning to run studios in their home town during the winter months. Research carried out during 2017 for the book "A Victorian Society", showed that Samuel Beverley's earliest ventures to the coast were to Bridlington Quay in the late 1860s but he later moved to Blackpool, probably during his presidential year (when someone else took over his OPS duties at short notice) and he settled there, raising children who became photographers after him. The family never returned to live in Oldham.
Samuel is one of several Oldham PS founding members who began their careers as photographers in Oldham, but eventually moved to the seaside to found businesses there, never to return to the grime and industry of their old town.
Dating the photograph
The date of the photograph is the "second bustle era" 1883-1889, judging from the woman's clothing style (style of bustle and apron, tailored dress with tight sleeves ending in a ruffle, contrasting panel in bodice) and hairstyle (tight and austere, drawn back from the face with curls at the forehead). Added to that is the style and colour of the card mount and the style of the printing.
Historical sewing patterns point to a date around the middle of the second bustle period. There is a web site Date an old Photograph which may help others to date family photographs and Fashion Era may help date photos by fashion.
Christine Widdall – Originally written in 2008 and updated January 2018.