April 2006 -A remarkable photographer celebrates his 100th birthday
"Gentleman Jim" Harrison receives the L&CPU Centenary Medal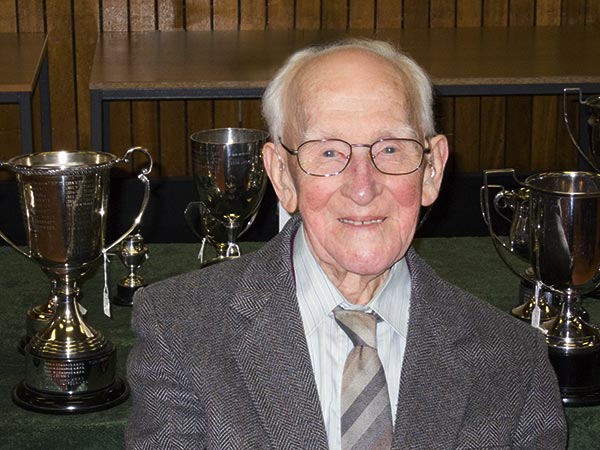 Jim Harrison – photo by Christine Widdall
Jim Harrison, known as "Gentleman Jim" was an active member of Oldham PS for 43 years until he had to leave Oldham in 1995 to live nearer to his daughter in Crewe. Unfortunately, shortly after the move, Jim's wife died, but even though he was already 89 years old, Jim was able to continue enjoying his hobby of photography and he joined Crewe Photographic Society, where he has taken an active part ever since. The members there have looked after and cherished Jim and last year, at the grand old age of 99, Jim took up digital photography, buying a digital camera and a printer. He now prints his own A4 ink jet prints and still takes part in Society competitions.

Our Federation, the Lancashire and Cheshire Photographic Union, is also celebrating its Centenary year this year and the committee felt that it was appropriate to make a special award to Jim in recognition of his many years of photographic achievement.

On April 20th 2006, John and Chris Widdall visited Crewe PS's Annual Awards event to take part in a special evening to mark Jim's approaching 100th Birthday. Chris was also present in her capacity as General Secretary of the L&CPU, along with L&CPU President, David Marsh, who presented Jim with a specially commissioned L&CPU Centenary Medal.

Photo of Jim with his medal by kind permission of Les Simpson (Crewe PS)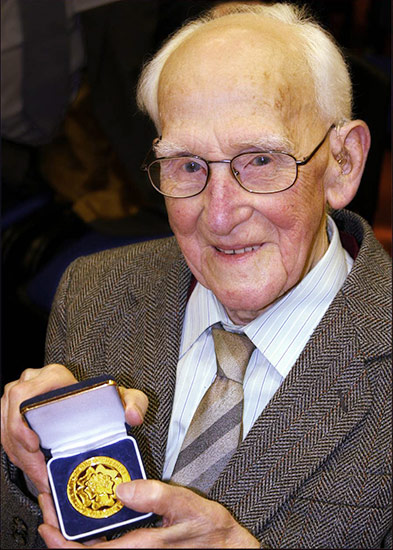 After the presentation, Jim responded by saying:-
"Thank you all for being so kind and having so many friends in CPS and OPS. I never thought I would get to this age. I must be making up for my father dying at 29 years old. I remember the German Zeppelins coming over in the 1st World War and we used to run in the cellar for cover.
I think photography and playing in dance bands must have helped me as my step father used to say to my mother 'That lad will kill himself with his late hours' but here I am!
Thank you all".
Jim had spent his youth playing clarinet in a dance band and worked as an apprentice trainer and instrument maker at Ferranti. He would have liked to have taken up music professionally, but had to be the family breadwinner in the 1930's after his father died. Jim's love of music and photography have stayed with him since childhood, when he took music lessons and played about making photographic images with a cardboard pinhole camera.
Throughout his life Jim's gentleness and kindness have earned him the love of all who know him. Oldham PS members always referred to Jim as "a real gentleman" and his new club has also dubbed him
"Gentleman Jim".
Jim will also be celebrating his 100th birthday with a party on May 13th in Crewe and all OPS members who know Jim are invited to attend (see John W for details).
Jim is pictured below with Chris Widdall after the presentation – photo supplied by Crewe PS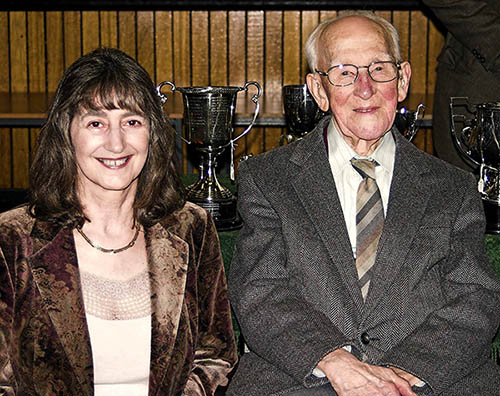 Jim is pictured below with members of Crewe PS – photo by C Widdall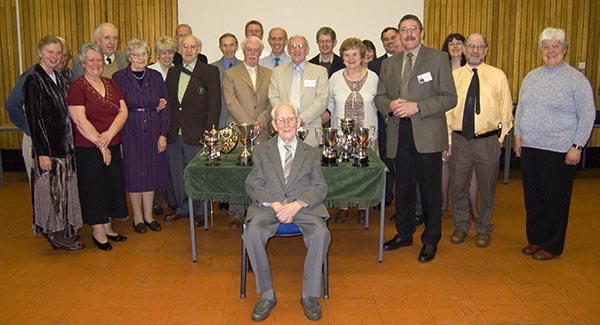 Announcement November 2006
Sadly, Jim died in hospital, six months after his 100th birthday, following an emergency hip replacement operation. Our thoughts are with his daughter Jean and her family.
Chris Widdall 4th Nov 2006